I am joing up with
Amanda at Teaching Maddeness
for her linky party: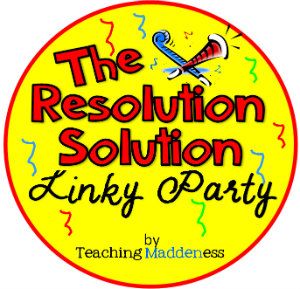 Here goes:

Personal Resolution:
Drink less Pepsi - which helps me to eat less chips, which helps me to eat less dip! Hopefully this will also help me to lose weight. Along the same line - take our dog for longer walks - even when it is so cold, or so hot or my favourite show is about to start!
School Resolution:
Work harder to develop and implement inquiry based math lessons - not just at the beginning of the unit, but yes dare I say it - during the unit too! I`m part of our board`s Junior Math Numeracy Network so hopefully our workshops and meetings will keep me on track.
Blog Resolution:
I am a long time Blog reader, really new Blog writer, but my goal is to be a better Blog commenter (is that even a real word?!?). After starting my own Blog I realized the importance of comments - knowing that someone has read your blog and had a positive (hopefully) reaction to it can really make it worthwhile. I use to think why comment if all I had to say was "Great idea" or "So Cute". But now I see the importance of taking the time to comment, especially to just say thanks! So that is my goal - to let other Bloggers know just how much I appreciate their work and their sharing!