I am joining up with
Farley at Oh' Boy 4th Grade
for her March Currently.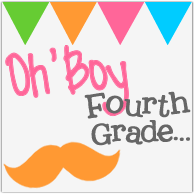 Yes, I have "Inner Ninja" stuck in my head and wish they didn't use the lyrics "liquor store" and "half- a**ed" so I could use it in my class. My daughters said I could change it to licorice store but we had nothing for half - ?, but I just love the song, the vibe, the feeling it gives me. It really makes me think I need to find my inner ninja. If you are not singing this song in your head all day long - click on the link and hit play until it is stuck in your head too!
Today we celebrated the anti-bullying intiative "Pink TShirt" Day. National Pink TShirt Day was Wednesday - but we had a snow day so we had our day today. Here are some highlights of our day.
We wore our pink tshirts! This is a picture of my daughters wearing one of the shirts - they do not even go to our school but wanted a shirt too!
When we gathered in the gym we revisited our November Anti-Bullying Week Initiatives. Our focus was "Stand Up" and "Think". We watched this video and used these posters (
from technology rocks, seriously
) as a teaching focus in November.
We took pictures of all of the staff & students holding a sign that said "I Stand Up For..." or "I Stand Up Against..." and we made a slide show using the Sugarland song. Below is a pic of two samples - trust me they look better in the actual slide show! The signs had all different messages and they could get their pic done solo or in groups. So today we watched the slide show again - to remind them what they stood up for and what they stood against.
We then watched a powerpoint I made last year explaining the importance of
Pink Tshirt Day
.
Then we shifted our focus to Standing Up for ourselves. We based our message on this poster from Joanne at
Head over Heals for Teaching
(she generously shared her poster with me!). I printed the posters at Staples Business Depot and my daughters and I added stick on gems from the dollar store to the word sparkle - they turned out fantastic!
We listened to the story "Chyrsanthemum" by Kevin Henkes - a great book that fits perfectly with our theme (she had sparkle, she let others dim her sparkle, someone helped her get her sparkle back!). Our school loves when our Grade 1 teacher reads a book in front of the whole school. They scoot forward and listen attentively - like they are back in Grade 1 with her - it is awesome to see. If you use this book Lyndsey has some great activities at her blog
A Year of Many Firsts
. I found some more great resources at
Creekside Teacher Tales from Tracey
from her anti-bullying lessons.
We talked about how each one of the students had sparkle or a light within them and they needed to make sure that they didn't let anyone dim it and they didn't dim anyone elses. Then we listened to Fix You by Coldplay - focusing on who was the light that would guide them - while it was playing we handed out glow in the dark bracelets to all the students and turned the lights out - it was like a concert (this is not the version we used but I put it here just in case you need a Coldplay fix).
Then the students sang "Children of the Light" with their bracelets on, we took a school picture and they returned to class for follow up activities.
All the students in the school made their name - using sparkle materials to display in the school along with the poster - a reminder to stand up for themselves and to not put others down.

I would love to hear what other schools do as anti-bullying activities - if you have any ideas please share them with me!